We are back from BPI 2022!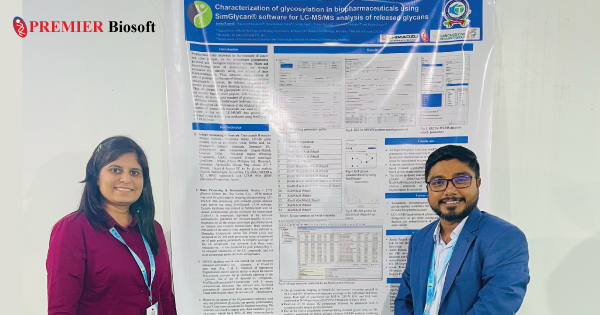 December 20, 2022
PREMIER Biosoft is back from the 8th International Bioprocessing India (BPI) Conference 2022 organized by the Bioprocessing Society, India at CSIR-NCL, Pune, India from December 16-18, 2022. We showcased SimGlycan® - A software for high throughput characterization of released glycans and glycopeptides using mass spectrometry data.
We, along with our collaborators, Institute of Chemical Technology, Mumbai, Shimadzu Analytical (India) Pvt. Ltd. presented a poster titled, "Characterization of glycosylation in biopharmaceuticals using SimGlycan® software for LC-MS/MS analysis of released glycans". The poster discussed how an automated LC-MS/MS-based workflow in SimGlycan paved the way for rapid and efficient characterization of N-glycans from trastuzumab biosimilar.
We had a great time meeting with many glycoproteomics researchers from biopharma industries and academia discussing informatics support for high throughput glycan and glycopeptide characterization. We also had the opportunity to introduce another software tool, GlycanExplorer™, that can identify released N-glycans confidently using robust HRAM glycan spectral databases and quantify them.
In case you could not attend the event this time and need help with glycan and glycopeptide characterization, feel free to talk to us as per your convenience by booking a meeting below. We would love to hear about your data analysis challenges and see if our glycomics software tools can help.
We look forward to meeting you again!
| | | | |
| --- | --- | --- | --- |
| | Comment | Share | |